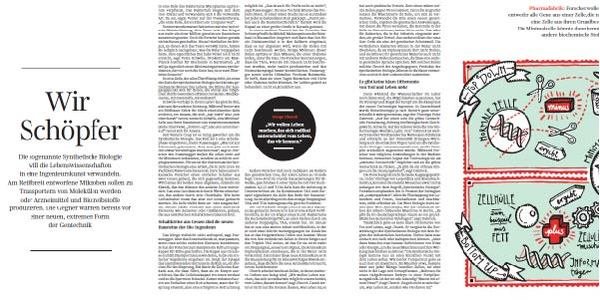 MaxSynBio in public media
2019
25 April 2019
"Leben aus dem Biobaukasten" (engl: "Life from the Biological Construction Kit")
An article (in German) by Silvia von der Weiden, published in VDI Nachrichten
LogIn for access might be requiered.
https://www.vdi-nachrichten.com/Technik/Leben-Biobaukasten
2018
28 Nov 2018
"Fundamental goals will bring us forward!"
Interview with Prof. Dr. Petra Schwille with Building a Synthetic Cell (BaSyC)
http://www.basyc.nl/2018/11/28/fundamental-goals-will-bring-us-forward/
7 Nov 2018
How biologists are creating life-like cells from scratch.
A news feature article on bottom-up synthetic biology by Kendall Powell published in Nature
3 July 2018
Is abstraction in biology possible?
An article (written in German) about a powerful memory, incredible patience and other claims of molecular biology by Petra Schwille published in LaborJournal.
20 June 2018
On the path to an artificial cell
With the integration of a rudimentary metabolic function into a tiny droplet, a step has been made towards advancing the borders of life
Featured Article by Kai Sundmacher and Jakob Schweizer
20 July 2018
"Ein neues Betriebssystem für lebende Zellen", Die Welt
Find the article about the work of MaxSynBio here:
2017
01 November 2017
Die Notbremse der Biotechnik gegen die Klimakrise, Frankfurter Allgemeine Zeitung
Feature article by Tobias Erb (MaxSynBio)
Download: maxsynbio-in-the-news-faz-20171101.pdf

26 October 2017
A stable shell for artificial cells
Scientists are developing cell-like lipid vesicles which can be populated with natural cell proteins
Featured article about the work of Prof. Joachim Spatz
14 February 2017
Neue Definition für Grüne Gentechnik wegen CRISPR-Cas, TALEN und Co.?, Science Media Center Germany
Statement by Jakob Schweizer (MaxSynBio)
2016
10 March 2016
Das Leben bahnt sich seinen Weg, Die Zeit, by Christiane Grefe
Interview with Prof. Dr. Petra Schwille (MaxSynBio) and Dr. Andreas Weber
www.zeit.de
2015
02 October 2015
Biotechnologie 2020+: Designer-Zellen in Serienproduktion, biooekonomie.de
Report on the annual congress: "Design von Biosystemen – vom fundamentalen Verständnis zu neuen Anwendungen" on 23 September 2015
www.biooekonomie.de
28 September 2015
Forscher diskutieren über Trendfach Synthetische Biologie, biooekonomie.de
Report on the panel discussion: "Wohin entwickelt sich die Synthetische Biologie in Deutschland?" on 22 September 2015
www.biooekonomie.de
26 June 2015
Synthetische Biologie - Das Leben, ein Baukasten, Deutsche Universitätszeitung, by Christine Prußky
Article on the prospects of synthetic biology in Germany in the context of politics and public opinion
www.duz.de
16 May 2015
Urknall des Lebens, Süddeutsche Zeitung, by Kai Kupferschmidt
Interview with Prof. Dr. Petra Schwille (MaxSynBio)
www.sueddeutsche.de
17 May 2015
Wir Schöpfer, Süddeutsche Zeitung, by Kai Kupferschmidt
Article on synthetic biology
www.sueddeutsche.de
24 April 2015
Portail de la Science de l'Ambassade de France en Allemagne: "Lancement du programme de recherche MaxSynBio visant à construire des cellules artificielles"
www.science-allemagne.fr
22 April 2015
Bio-Based News: "MaxSynBio – Max Planck research network in Synthetic Biology"
news.bio-based.eu
17 April 2015
transkript.de: "26 Mio. Euro für MaxSynBio"
Report about the ceremonial opening of MaxSynBio
www.transkript.de
17 April 2015
biooekonomie.de: "MaxSynBio: Forscher wollen lebende Mini-Zellen bauen"
Report about the ceremonial opening of MaxSynBio
www.biooekonomie.de
2013
28 June 2013
Tagesspiegel: "Ingenieure des Lebens"
www.tagesspiegel.de