Proteins for MaxSynBio
The Dortmund Protein Facility (DPF) is the high-throughput protein engineering and production unit of the Max Planck Institute of Molecular Physiology in Dortmund.
Our facility offers a complete service package from gene-to-protein or for cloning of target DNA sequences into different multi-host vectors only. All cloning or protein isolation projects are supported by comprehensive reports, compiling the related protein- and DNA-analysis, based on capillary electrophoresis, absorption spectroscopy, DNA-sequencing and LC mass-spectroscopy. In combination with automated liquid handling and sample analysis we have developed a robust and rapid method that enables swift one-step cloning and multi-host screening for protein over-expression in bacterial, insect or mammalian cell culture, avoiding the need to make multiple vectors for each target. A range of fusion protein formats in our vector collection allows the user to choose from "solubilizing" fusion partners, fluorescent protein variants, covering a wide spectral range or small tag combinations facilitating tandem-affinity purification. This suite of fusion-tags enables a broad set of applications; however, alternatively all tags may be removed after expression and primary purification. Optimal protein production is assessed screening for different expression conditions in a 96-well plate format for E.coli and in 24-well plates with two insect cell lines, including analysis of the ideal time-of-harvest after infection with baculo virus. Pilot purification of the recombinant proteins includes combination of affinity chromatography (AC) followed by size-exclusion chromatography (SEC). Ion-exchange (IEX) or on-column protease digest to remove solubility- and affinity-tags can be added as required. Typically, a successful project yields a mono-disperse, endotoxin-free sample of 1-50 mg of recombinant protein, with a purity of >85% and in a buffer of choice.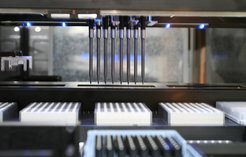 The currently MPI-Dortmund internal user-access to the services of the DPF is facilitated by a web-based graphical user interface. MaxSynBio team members can place orders via the contact persons given below. The MPI Dortmund will issue internal invoices about the project-related consumables to the MPI commissioning the order. In addition to supplying biological material and data, the DPF is supporting researchers by consultation and by assisting the design of individual project stages or the complete project. While the user defines the intended application and, thus, key factors of the production process of the desired protein, targeted project design and robust protocols supplied by the DPF finally ensure successful project completion.
---
Order online
In case you would like to place an order, please do this as soon as possible via our order shop:

dpf.mpi-dortmund.mpg.de
---
Further information & contact
For further information, consultation or placement of orders, MaxSynBio team members can contact:
Dr. Eyad Fansa
E-Mail: Eyad.Fansa@mpi-dortmund.mpg.de
Telephone: +49 (231) 9742-7047
Christina Courtis
E-Mail: Christina.Courtis@mpi-dortmund.mpg.de
Telephone: +49 (231) 133-2232
Dr. Astrid Krämer
E-Mail: astrid.kraemer@mpi-dortmund.mpg.de
Telephone: +49 (231) 133-2206
Max Planck Institute of Molecular Physiology
Otto-Hahn-Str. 11
44202 Dortmund, Germany
www.mpi-dortmund.mpg.de/forschung/services/dpf-protein-facility