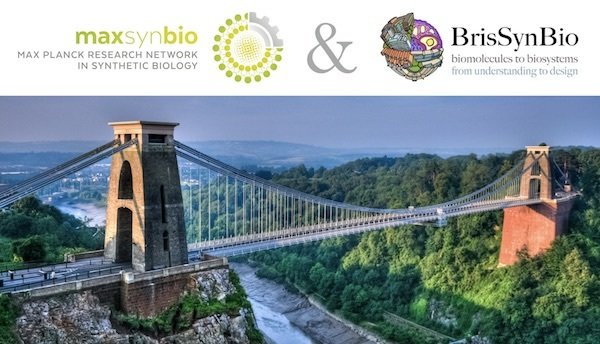 Building bridges in Synthetic Biology:
BrisSynBio meets MaxSynBio
6-7 April 2017: Two of Europe's strongest research networks in Synthetic Biology meet in Bristol! Two days of intense presentations, poster sessions and collaborative discussions at the University of Bristol.
The joint workshop
The British research network BrisSynBio and the German research network MaxSynBio are both dedicated to synthetic biology. During our joint workshop on 6/7 April 2017 in Bristol we want to exchange ideas and discuss potential common projects. The meeting addresses experienced researchers from both networks such as postdocs and principal investigators. We will have a bundle of various presentations and occasions to exchange ideas: two plenary lectures by senior principal investigators, 9 short presentations by junior group leaders, poster sessions and poster flash presentations, information about funding possibilities and parallel satellite sessions for specific areas of interest which will be defined by the participants. Scientific presentations will be accompanied by 3 talks on responsible research and innovation which will be integrated into the presentation sessions.
Scientific & Organisational Committee
BrisSynBio
MaxSynBio
Scientific Advisors:
Prof. Dr. Stephen Mann
Prof. Dr. Kai Sundmacher
Organisational Committee:

Dr. Tom Gorochowski

Dr. Kathleen Sedgley

Dr. Dora Tang

Dr. Jakob Schweizer

Contact:
k.sedgley@bristol.ac.uk
schweizer@mpi-magdeburg.mpg.de
BrisSynBio & MaxSynBio
BrisSynBio is one of six Synthetic Biology Research Centres (SBRCs) funded by the Research Councils of the United Kingdom (RCUK). BrisSynBio focuses on applying biomolecular design and assembly in synthetic biology. This includes rational design and engineering of nucleic acids, lipids, peptides and proteins as structural, enzymatic and regulatory components in new biological and bioinspired systems. Applications include: agrochemicals, pharmaceuticals and fine chemicals; designing new vaccine platforms; developing synthetic-blood products; and establishing new methods to increase wheat yields.
MaxSynBio includes research groups from nine Max Planck Institutes across Germany, as well as the Department of Theology of the Friedrich Alexander University Erlangen-Nuremberg. MaxSynBio research is drawn together to address the universal questions: What are the essential mechanisms of biological cells - the fundamental units of life? And how can we make targeted use of biological structures for technological applications? MaxSynBio has a strong biophysical theme that aligns closely with BrisSynBio's unique style of synthetic biology and distinguishes this partnership from more conventional synthetic biology.