Synthetic Life - what is synthetic, what is natural?
2 July 2018, Jahrtausendturm: A public panel discussion on synthetic nature with experts from MaxSynBio and guests.
In the framework of our MaxSynBio Symposium in Magdeburg we are organising a public panel discussion to which we also invite all participants of the symposium. Experts from MaxSynBio and guests will discuss about the question:
Synthetic Nature - what is synthetic, what is natural?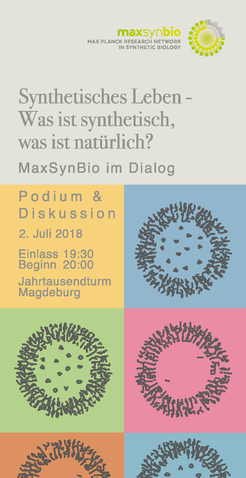 Program
18:00 Dinner (for participants of the MaxSynBio Symposium only)
19:30 Doors open for the general public
20:00 Welcome address
20:10 Keynote talk by Dr. Joachim Schummer
20:30 Panel discussion with
Prof. Dr. Kai Sundmacher, Bioprocess Systems Engineer
Prof. Dr. Petra Schwille, Biophysicist
PD Dr. Joachim Schummer, Philosopher and Chemist
Prof. Dr. Peter Dabrock, Theologian and Ethician
Prof. Dr. Barbara Prainsack, Sociologist and Political Scientist
21:30 Public reception with drinks and open discussion
Jahrtausendturm
The panel discussion will be held in the Jahrtausendturm, a wooden tower (actually the largest building worldwide made from wood) situated in the Elbauenpark, a large park next to the river Elbe in Magdeburg. The Jahrtausendturm hosts a large exhibition about 6000 years history of scientific and technological cognition. Exhibition objects include a huge Foucault pendulum, a reconstruction of the flying machine by Leonardo da Vinci, the famous Magdeburg hemispheres, Robert Hooke's microscope and a copy of the historic version of an x-ray tube.

Jahrtausentrum Magdeburg
Tessenowstraße 7
39114 Magdeburg

Entrance at tram stop Messegelände/Elbauenpark
Image courtesy by Jahrtausendturm and Andreas Lander ©.