Mini Talk Information
Information and instructions for Mini Talks
6 participants, 6 Slides, 6 minutes presentation, 6 minutes discussion and repeat!
Next to keynote presentations, we will have "Mini Talks" as a replacement for conventional poster sessions
There will be two Mini Talk sessions

Mini Talk Session I (Monday 21:15 - 22:00 CET)
Mini Talk Session II (Tuesday 21:15 - 22:00 CET)

Mini talks are organised as small video conferences (BigBlueButton) with a small number of participants in order to facilitate personal communication
Each mini talk should be presented in three rounds, each round lasting 15min. After each round, participants switch to the next mini talk and mini talk presenters repeat their presentation to a new audience

Each mini talk should consist out of maximum 6 slides, to be presented in roughly 6 minutes
Followed by 6min for discussion (+ max. 3min)
Submission of Mini Talk Contributions
You can submit a mini talk during the registration process
Submitted mini talks require approval by the scientific committee
16 Nov: Approval of Mini Talks submitted before 9 Nov
23 Nov: Approval of Mini Talks submitted after 9 Nov and before 16 Nov
Poster Prize
The German Association for Synthetic Biology (GASB) sponsors 2 Mini Talk Prizes, each worth 100 €. The two prizes are awarded in two different categories:
Science
Design/Presentation
The poster prizes will be elected by the participants through an online poll.
Access
Attendees can simply acces the BigBlueButton rooms on Monday and Tuesday by entering their name - no password required.
Presenters access the BigBlueButton rooms with the access instructions provided by email.
Since space for each Mini Talk is limited, please leave the BigBlueButton room if you have no interest anymore so that other attendees can enter the Mini Talk room.
You can see the number of attendees for each Mini Talk before entering, you might need to refresh the page to see the current occupancy.
While you are in the BigBlueButton room
When entering allow audio connection but mute your microphone when you are not talking.
Activate your camera for a more personal connection.
You can use the chat function to exchange text message (mute your microphone while typing).
For further functions see the figure and watch the tutorial video below.
You can try BigBlueButton here: https://meet.gwdg.de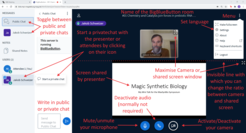 BigBlueButton Tutorial
Watch a BigBlueButton tutorial on youtube.