Social Gathering
Wednesday after the symposium - meet everyone else in one big space!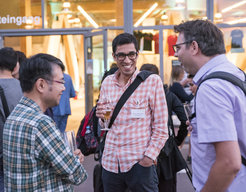 After our symposium we will meet on a virtual platform provided by wonder.me formerly known as yotribe. Please prepare yourself with your favourite drink and join us for this virtual-social experience!
Wonder.me is a two-dimensional space to meet people online:
Accept or decline cookies except for the ones technically required
Enter your first name and last name
Allow camera and microphone
Take a photo for your avatar
Check if you can hear a sound when asked
Test your microphone when asked
You can move your avatar with by clicking with the mouse into the region where you want to move
As soon as you are close to someone else you can hear and see them with live video and you can talk with each other
If you move away from someone you will lose contact - just like in a real room
Please also watch the tutorial on youtube if you don't know wonder.me/yotribe.
Prepared? Be ready to switch on camera and microphone, bring yourself in a good position, and let's meet nice colleagues - click on the following image...